Our Updated Sign
Located along Route 119 North near the Comet Drive-in.
The drawing of our building appeared in a 1903 newspaper article announcing our "new" building. The architect was A. B. Jennings of Wall Street, New York. This year we celebrated our 225th anniversary serving the Lord in the Connellsville Community.
Please join us on a Sunday for worship and a look inside this beautiful building.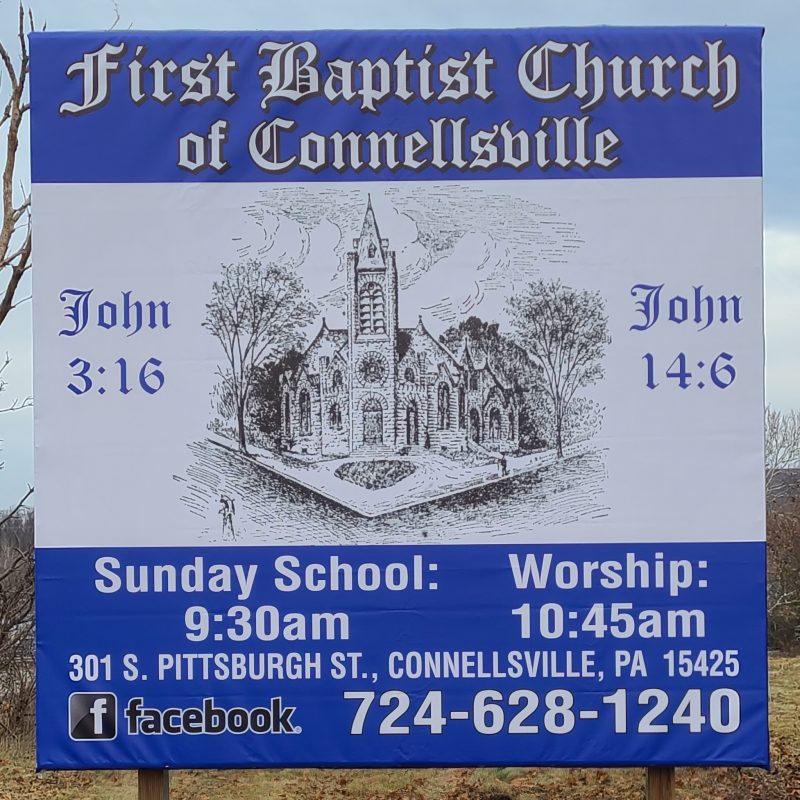 225th Anniversary Celebration – June 27, 2021
Thank you – Marti B Jordan – OneFocusPhoto
Stained Glass Windows
Glass City has completed restoration of our windows!
Maintenance of our unique building requires patience and funding.
You can help! Anything you may want to donate will be greatly appreciated and you can take satisfaction in knowing you helped maintain our lovely sanctuary.
As of February 2019
Window Restoration Funding:
Restoration Cost $42,827.00
Window offerings collected $42,827.00
Blessing to those who helped with our Window Fund! Thank You!
Restoration has cleaned and strengthened our windows!
Also, air vents were added to the protective plexi-glass exterior to handle changing temperatures and condensation.
Gethsemane
My soul is exceeding sorrowful, even unto death; tarry ye here, and watch with me. (Matthew 26:38)
The darkness had descended upon our Saviour; all injustice, all the hatred and malice of evil men had been heaped upon him, and he who had lived white and clean, whose entire life was given over with devotion to doing good, was on his way to the cross.
It was a bitter hour indeed when he entered the garden, drawn there by his need of help for his tortured soul. He sought a garden in his intense need to commune with his Father. He hungered, too, for human companionship and took with him Peter, James and John.
Before and After Restoration
The Sermon on the Mount
And seeing the multitudes, he went up into a mountain and his disciples came unto him and he opened his mouth and taught them.
From His sermon on the mount we hear the beloved beatitudes and the Lord's Prayer; the sermon giving a complete pattern for living as He would have men to follow; saying:
Rejoice, and be exceeding glad for great is your reward in heaven. Ye are the light of the world; a city that is set on a hill cannot be hid. Let your light so shine before men that they may see your good works, and glorify your Father which is in heaven.
Matthew 5, 6, 7 in part
Before and After Restoration
The Ascension
And he led them out as far as to Bethany, and he lifted up his hands and blessed them. And it came to pass, while he blessed them, he was parted from them and carried up into heaven. And they worshipped him, and returned to Jerusalem with great joy; and were continually in the temple, praising and blessing God. Amen.
Luke 24:50-53
Before and After Restoration
The Empty Tomb
But Mary stood without the Sepulchre weeping and when she turned herself back, she saw Jesus standing, and knew not that it was Jesus. Jesus saith unto her, Woman, why weepest thou, whom sleekest thou? Supposing him to be the gardener, she said unto him, Sir, if thou have borne him hence, tell me where thou hast laid him, and I will take him away. Jesus saith unto her, Mary. She turned and saith unto him, Rabboni, which is to say, Master.
Portion of John 20
Before and After Restoration
Parable of the Lost Sheep
And he spake this parable unto them, saying, What man of you, having a hundred sheep, if he lost one of them, doth not leave the ninety and nine in the wilderness, and go after that which is lost, until he find it?
Luke 15:3, 4
Before and After Restoration
Lazarus Raised
Then when Mary was come where Jesus was, she fell down at his feet, saying unto him, Lord, if thou hadst been here, my brother had not died. And Jesus said, Where have ye laid him? They said unto him, Lord, come and see. Then Jesus said, Take away the stone. And He lifted up his eyes, and said, Father, I thank thee that thou hast heard me. And I know that thou hearest me always, but because of the people which stand by I said it, that they may believe that thou hast sent me.
And when he this had spoken, he cried with a loud voice, Lazarus, come forth. And he that was dead came forth.
Then many of the Jews, seeing the things which Jesus did, believed in him but some of them went their ways to the Pharisees, and told them what things Jesus had done.
Portion of John 11
Before and After Restoration
Angel Appears to Shepherds
In the nearby fields that night there were men who stood awake and watchful. They were shepherds, keeping watch over their flocks by night. It was a calm night, bright and peaceful, too bright for anything to happen that might endanger the flock.
All at once, it was even brighter than before; a great and wonderful light filled the sky and the brilliant glory of the Lord shone round about the shepherd so dazzlingly, so suddenly, that their hearts leapt within them and they quaked with fear. And an angel appeared before them in the brilliance and cried out a message that brought them to their knees in prayer. "Fear not, for behold, I bring you good tidings of great joy, which shall be to all people, for unto you is born this day in the City of David, a Saviour, which is Christ the Lord.
("The Story Bible" by Pearl Buck)
Luke 2:8-11
Before and After Restoration
Woman at the Well
It was high noon in Samaria, the heat of the sun pointed out a wayside well—one with a history. One traveler, weary from his journey and the pressing throngs, rested here. The traveler was Jesus. He observed a woman coming from the village bearing a pitcher and as she came to the well-side he spoke to her: "Give me a drink." "How is it that you, a Jew, ask drink of me, a woman of Samaria?" He replied, "If thou knewest the gift of God, and who it is that saith to thee, "Give me to drink;" thou wouldst have asked of Him and He would have given thee living water."
"Sir, thou hast nothing to draw with and the well is deep; from whence then hast thou that living water?"
The man replied, "Whosoever drinketh of the water that I shall give him shall be in him a well of water springing up into everlasting life."
"Come See A Man" by Grace Noll Growell
Before and After Restoration